DIY Flocked Real Christmas Tree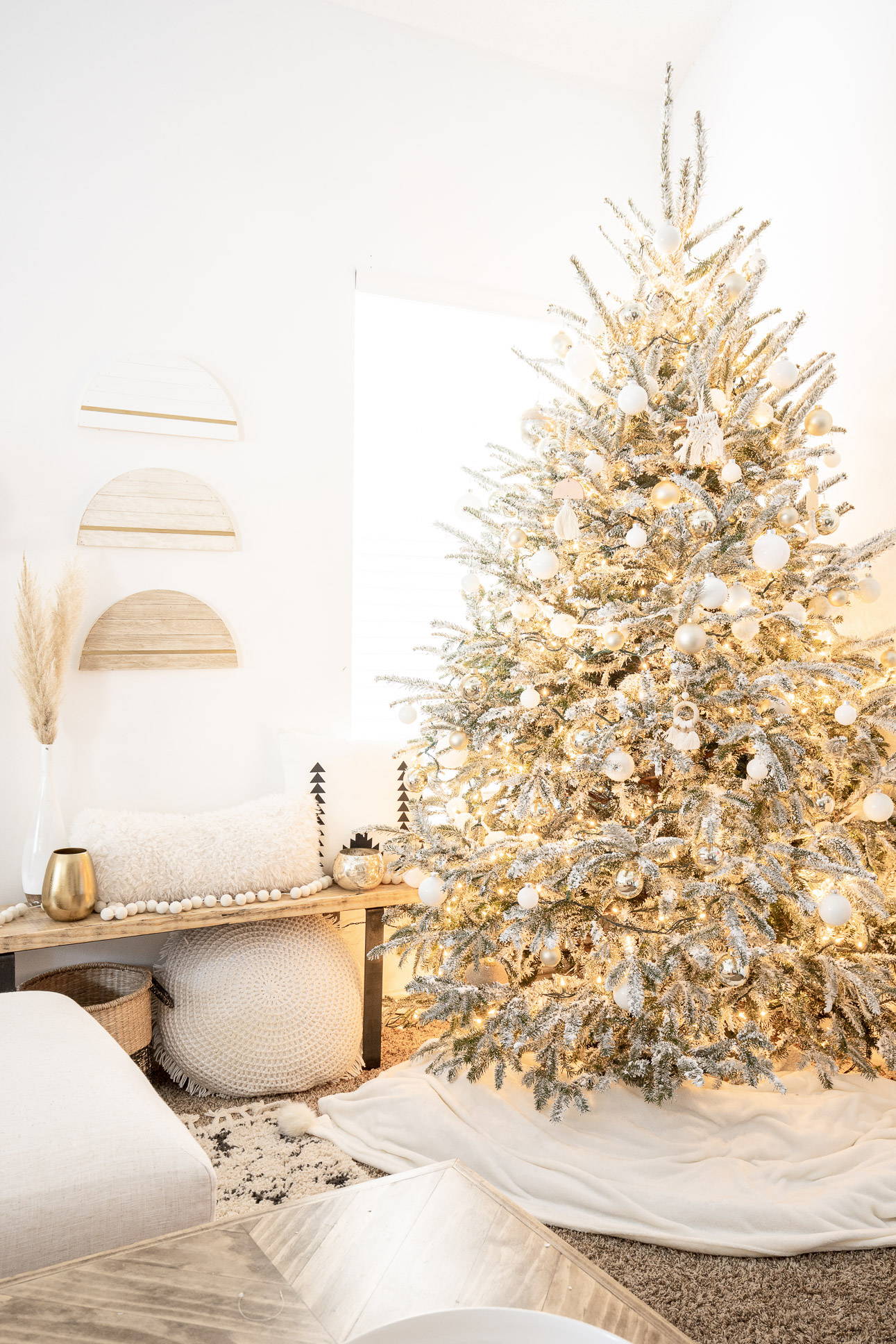 This is Sam and I's 4th Christmas together and each year we typically buy a real tree. There's just something about going to pick out our tree together + the smell of fresh pine in our home. We both grew up getting real trees every year so its always been something we have both wanted to have! However over the last two years we have seen a ton of people leaning more towards the faux flocked trees and honestly they look STUNNING and if you haven't seen our place just yet click "here" and you'll be caught up to speed. It's pretty much all white and neutral everything. So this year I wanted the best of both worlds, a real flocked tree and guys when I have my mind set on something I will figure a way to do it.
So we drove around to 5 different stores trying to find this "flock in a box" or "Snow flock" which is essentially a powder that you would add on top of the tree once water is sprayed onto the branches. But both items are only sold online and the shipping time was 10-15 days which was way too long for us to wait. I had remembered a blog that I read about a lady that flocked her real tree with 3 simple ingredients; Glue, shaving cream + corn starch. At this point there was no turning back and I wanted a real flocked tree so there was nothing else to do but try out this DIY concoction and hope for the best!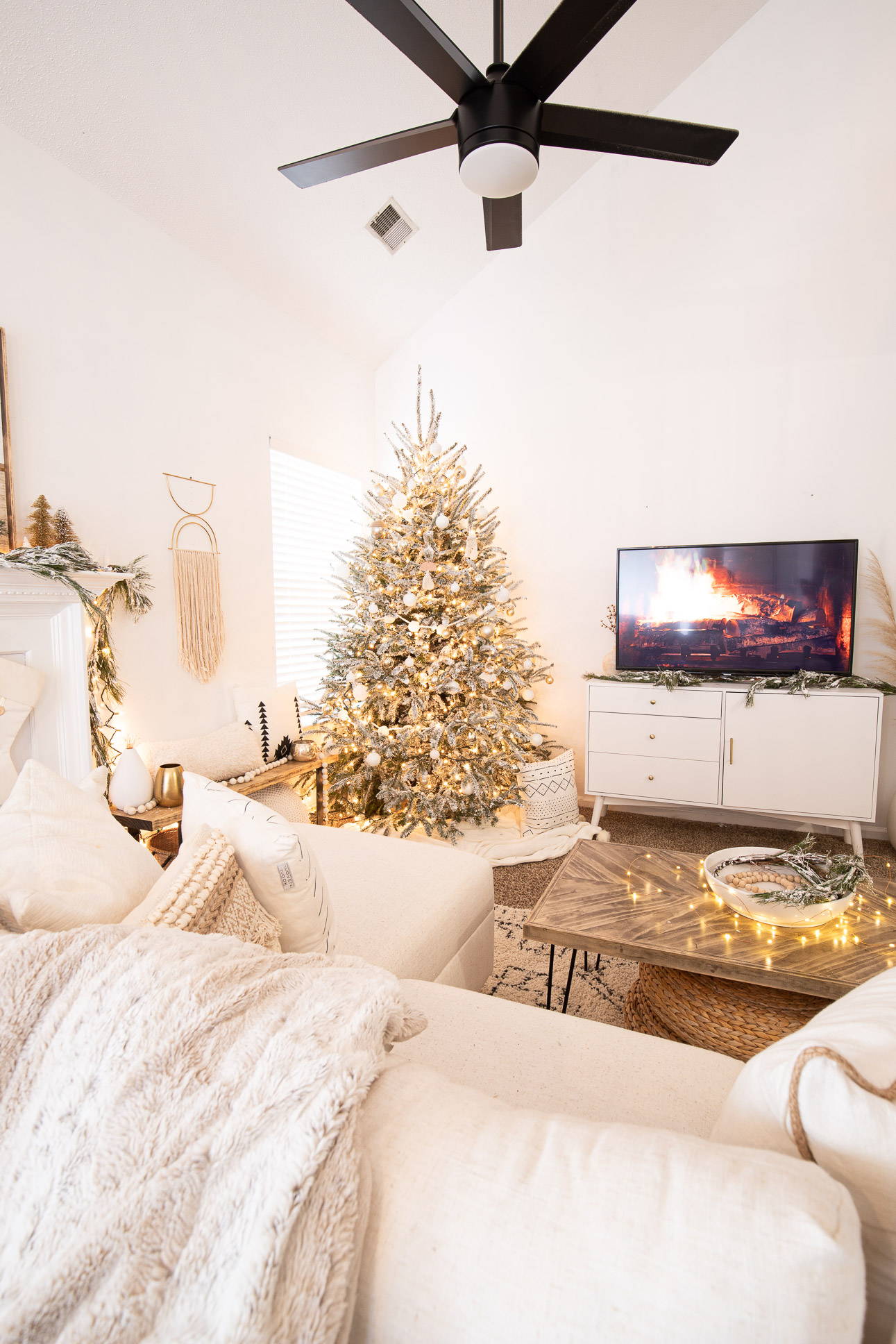 To Flock 2/3 of a 7-8 foot Real Christmas tree we used two batches of this recipe:
-1 cup of Elmer's All purpose glue. The recommendation was not to use the kiddie version. We bought ours at Home Depot!
- 3 cups of Generic foam shaving cream. We bought 6 cans from Target and they were $1.00 each!
- 2 tbsp of Corn Starch (we found that the more that you use the thicker the "flock" looks, which we totally advise, we ended up using atleast 5 tbsp lol)
We mixed everything in a bowl with a whisk for 5-10 minutes and waited until stiff peaks started to form. If your flocking an entire tree you will most likely need to make 3-4 batches of this!
Not going to lie I was VERY nervous right before we started applying it because I was staring at a beautiful $65.00 tree from Lowe's and the thought that we may ruin it made me want to just settle. But that stubbornness in me was like "you guys have got to finish what you started" And honestly I'd be more mad at myself for not trying and always wondering than trying and completely messing it up.

How to Apply it:
Make sure you wear gloves and put a tarp down to catch anything that comes off of the tree Obviously with glue being in the mixture it gets very sticky. It was suggested to start at the bottom of the tree and work your way up which we definitely recommend doing! Essentially all we did was fill our hand up with the fluff and massage it onto the branch. We started super light but towards the end we went heavier on it. The heavier you bunch up on the branches the more it gives it a snowier look! There honestly isn't a "wrong" way to do it so go crazy with it! Sam and I said towards the end that this would be such a fun thing to do with kids because it really isn't a messy process.
Once it is all done you will need to let it dry for 24 hours before decorating it!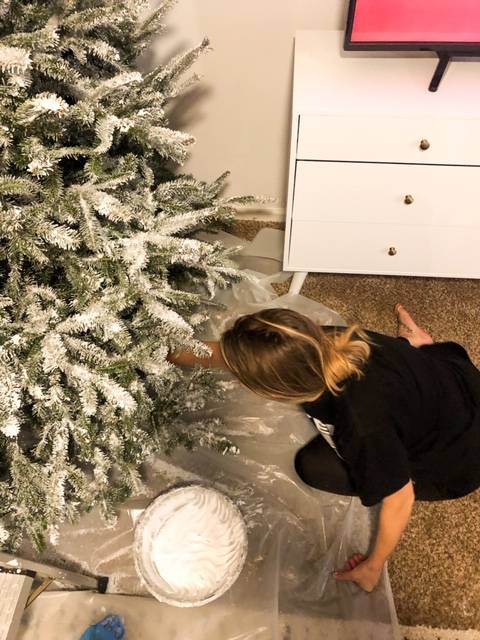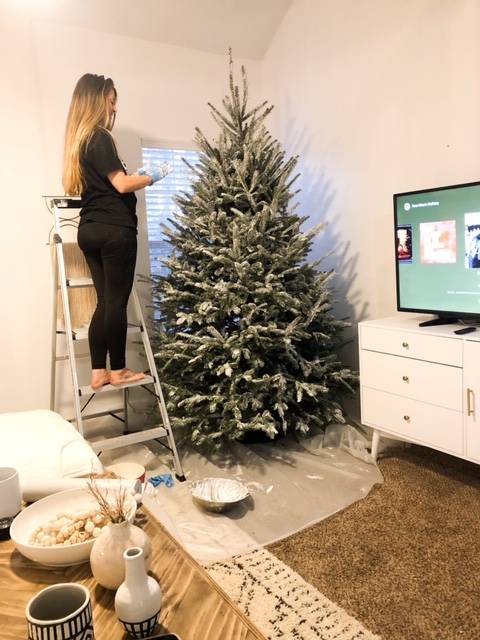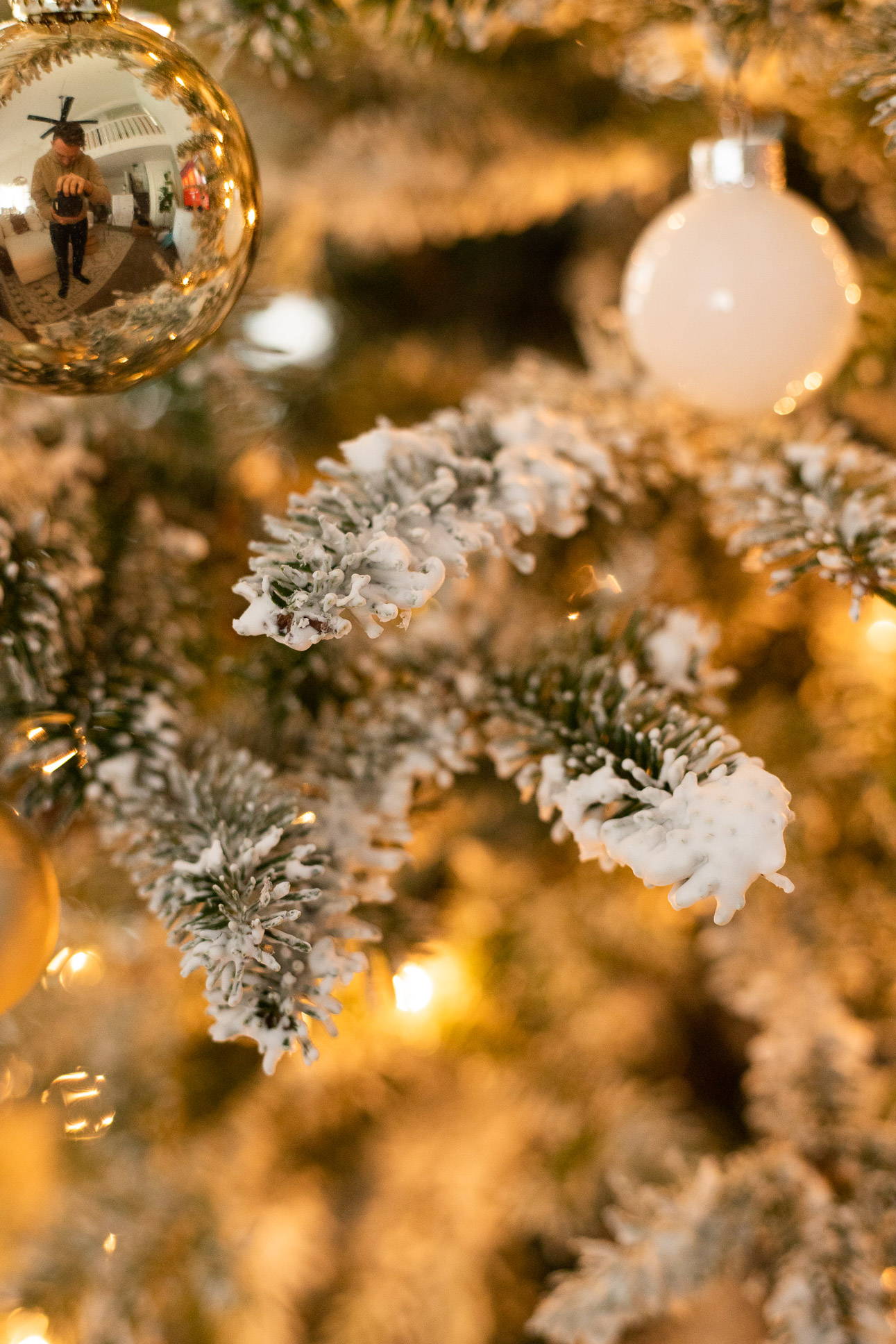 Here's some questions we've had from you guys:
Does it smell? It does have a slight smell to it at first but honestly it goes away within a few hours! And it just smelled like Fresh Ocean shaving cream anyways. I would pump some essential oils or a candle if you have them! Someone actually suggested dropping some essential oils into the mixture which I thought was a great idea!
How long did the process take? Overall it only took us about an hour and a half doing 2/3 of the tree and stopping in the middle to make another batch and have a quick snack break. Since the tree is in the corner of the room, and some of it doesn't get shown so we decided to only flock 2/3 of it!
How quick does it dry? We waited 24 hours before decorating and it was dry by then! The best part about it is when it dries its more foamy/spongey than crumbly.
Does it come off when you are decorating? Some of it does flake off as you decorate but it honestly is not that bad at all! It feels like the same amount of pine needles that would come off when decorating so it isn't a huge amount of difference.
Does it affect the longevity of the tree? I honestly don't know haha but its been almost a week and the tree is holding up just fine!
What type of tree did you get? Douglas Fir! We got it at Lowe's and it was only $65.00 for a 7-8ft tree. They had soooo many to choose from which we had a blast digging through them all!
We hope this gives you a fun idea to try out on your tree for next year, or this year if you haven't gotten yours just yet! If you give this a shot be sure to tag us on instagram @staybycorisamuel or email us a picture of it. We would love to see what you did with it!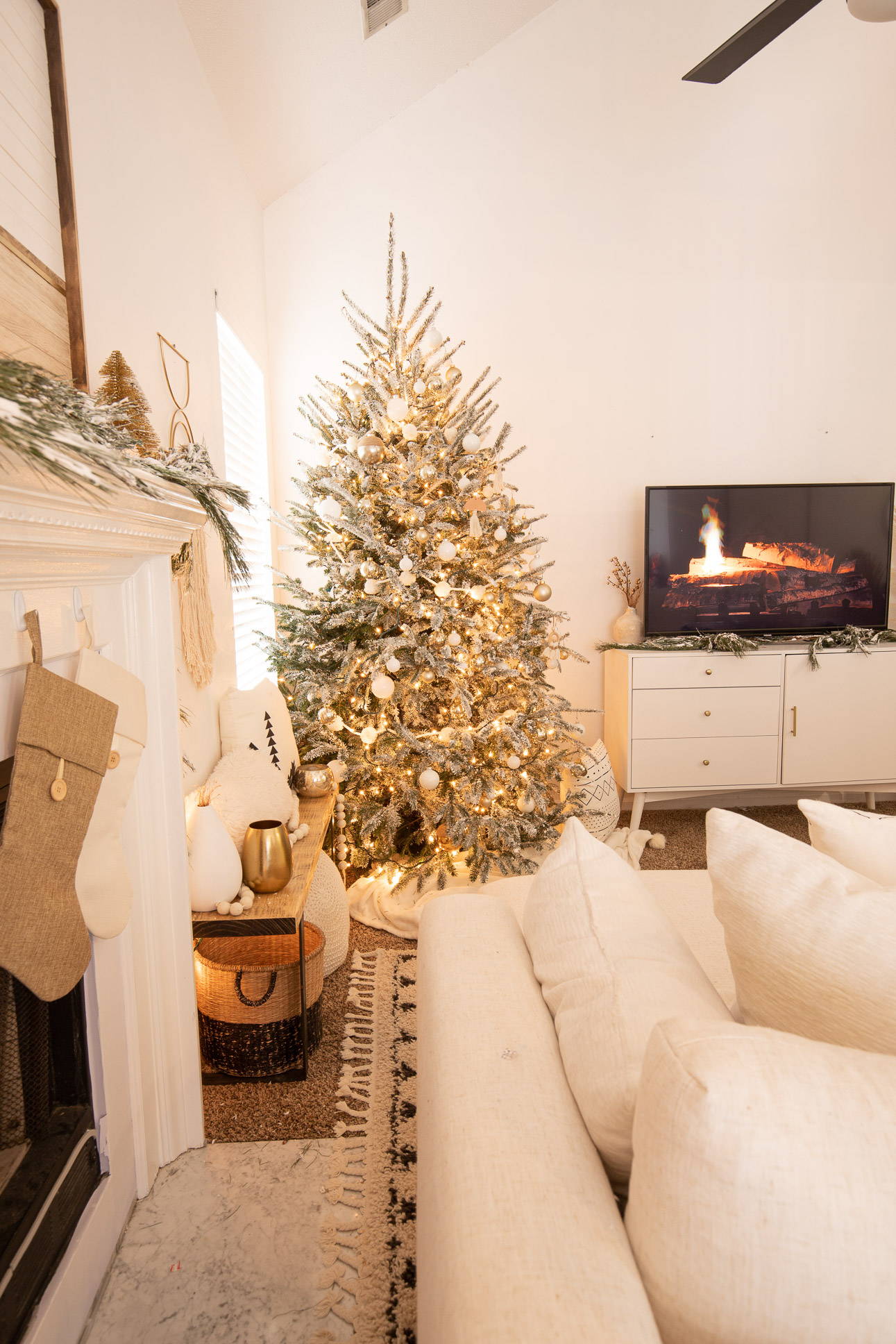 GET INSPIRED. CHECK OUT OUR INSTAGRAM @STAYBYCORISAMUEL
WHAT'S DIFFERENT ABOUT STAY?
Every item is hand crafted from scratch by Cori and Sam Werrell in Chesapeake, VA.
Shipping is included in all of our items so you don't have to worry about it.
Free interior design services on any purchase above $400.00 or more
SUBSCRIBE FOR EXCLUSIVE SALES & PREVIEWS
Be the first to know about monthly giveaways + sales + new collections